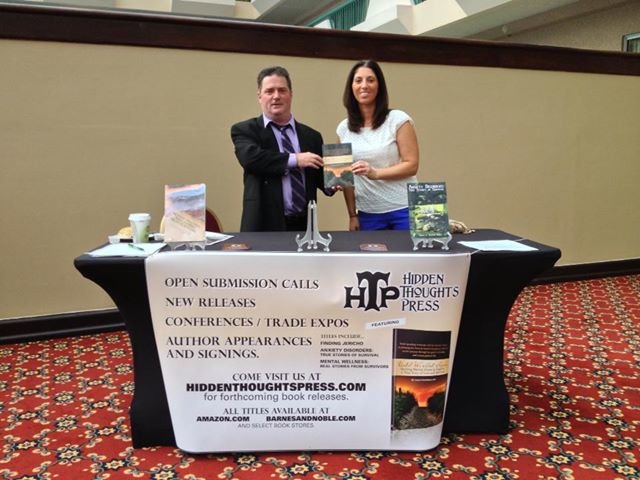 Welcome to Hidden Thoughts Press. HTP is one of our imprints dedicated to producing quality books filled with real stories from people who are surviving and coping with mental illness. We're dedicated to helping those with mental illness realize they aren't alone through inspirational non-fiction anthologies and non-fiction novels. Our staff focuses on the theme of mental wellness throughout the works, offering sufferers, their families, and friends help, hope, and a place to share their stories, including failures, set-backs, and successes.
No one is immune to mental illness. Statistics show that 1 in 5 people will experience some form of mental illness in their life. As a matter of fact, Depression is expected to become the second most disabling illness by 2020 – not that far away. The simple stresses of every day life – events on the news, problems, a difficult family life – can bring anyone down. These burdens can weigh heavy on our hearts, and, at times, can simply feel like life is just too much to bear. We count the days, or even the hours, until our "release" from work, or until our next vacation – the next break that's just around the corner. For some, these feelings are fleeting, they are temporary. For others, they become more permanent. Everyone has a method to make life less burdensome. Some work. Some don't. But where does one go when the burden is already too heavy? When "being alone" has become lonely? When one needs help but has no idea who or how to ask because our society does not give mental illness the same care as physical illness? When someone is tempted to push that "reset" button and make it all go away forever?
Hidden Thoughts Press strives to be a strong resource to show mental illness is not a problem to be ignored. Sufferers can and do lead productive lives. We publish works in the belief they will be a life ring in the seas of turmoil. Hopefully the stories found here will help make the burdens feel a little lighter through shared experiences.
Hidden Thoughts Press is always open to submissions for Memoirs, collection proposals, and short stories with our open collections submission calls. You can find out more by visiting our website where you can also purchase our books with links to Amazon, Barnes & Noble and other online-retailers.
For more information, to set up our authors for workshops, meetings, conferences or more, please contact:
Mary Harris, Executive Editor
HTPinquiries@eviljesterpress.com
EBOOK TITLES AVAILABLE
Mental Wellness: Real Stories From Survivors

Until We Meet Again - Battling Mental Illness & Suicide: A True Story of Loss and Survival

Anxiety Disorders: True Stories of Survival